CALGARY, ALBERTA
Pro/Am International Championships & Calgary Naturals
OCTOBER 26TH & 27TH 2023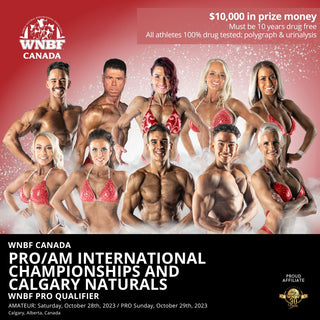 EVENT DETAILS
PROMOTED BY: Leo & Charlotte King
DATE: October 26 & 27, 2024
LOCATION: The Westin Calgary Airport - 671 Aero Drive NE, Calgary, Alberta T2E 7Y5
Live Judging Format
Saturday, October 26, 2024 All Amateur Classes
Sunday, October 27, 2024 All Pro Classes
All amateur classes in a category will be run through, followed by awards. This pattern will follow to the final category.
Tentative Schedule of Events
AMATEUR DIVISIONS & CLASSES
ATHLETE WALKS
Box Walk: Figure, Men's Physique & Bikini
I-Walk: Fit Body
*MANDATORY FOR ALL ATHLETES*
Polygraph Testing
PHOTO PACKAGES
For any questions, please contact the WNBF Canada Photography Team wnbfcanada@sombilon.com or (604) 916-0257.
Please Note: Absolutely no SLR/DSLR professional equipment or equivalent is permitted in venue. Small Personal digital cameras are allowed at WNBF Canada events for private, non – commercial use only. Thank you for your understanding.
ADDITIONAL SERVICES
Preferred Tanning Team
TAN LUIS
Hair & Makeup Services
BACKSTAGE COSMETICS
We're makeup artists who are passionate about the craft. We understand that while you may apply your artistry backstage, the final results need to shine front stage.
Email: info@backstagecosmetics.ca (preferred)
Phone: (403) 471-5765
Attire
CABA FASHIONS
Posing Suit Company
Please contact Chelsea LaBossiere for all your posing suit needs
For more information about judging criteria and appropriate competitor attire for each class, please visit our Judging Section.
Are you a trainer?
Any trainer that brings three (3) or more athletes to a WNBF Canada show receives one (1) FREE ticket for entire competition day. Trainer MUST email Charlotte King to confirm or will not be eligible.
Competition Workshops
ALL ATHLETES ARE WELCOME
Our Competition Workshops are seminars to help ensure you understand everything about competing with the WNBF Canada organization. They are organized and hosted by our stellar team of professional athletes, trainers, nutritionists, bodybuilders and fitness models who have all competed and are incredibly knowledgeable, inspiring and quite simply, nothing short of awesome. Our workshops are held at various locations within the same city as an WNBF Canada competitions. Find out all the details and register on our Competition Workshops page.
Virtual: July 15, 2023 (Here)
In Person: August 19, 2023 (Calgary)
& August 26, 2023 (Edmonton)