SEPTEMBER 9, 2023
ONTARIO NATURALS
WNBF PRO QUALIFIER
EVENT DETAILS
PROMOTED BY: LEROY ROLLINS
DATE: SEPTEMBER 9, 2023
LOCATION: BELLEVILLE, ONTARIO, CANADA
PHOTO PACKAGES
For any questions, please contact the WNBF Canada Photography Team wnbfcanada@sombilon.com or (604) 916-0257.
Please Note: Absolutely no SLR/DSLR professional equipment or equivalent is permitted in venue. Small Personal digital cameras are allowed at WNBF Canada events for private, non – commercial use only. Thank you for your understanding.
ADDITIONAL SERVICES
Preferred Tanning Team
TAN LUIS
Hair & Makeup Services
Backstage Cosmetics
We're makeup artists who are passionate about the craft. We understand that while you may apply your artistry backstage, the final results need to shine front stage.
Email: info@backstagecosmetics.ca (preferred)
Phone: (403) 471-5765
Attire
Krystle Creations
Krystle Creations is dedicated to offer you the smoothest suite experience along with expert advice. We are bodybuilders just like you.
Email: krystle.anastasopoulos@gmail.com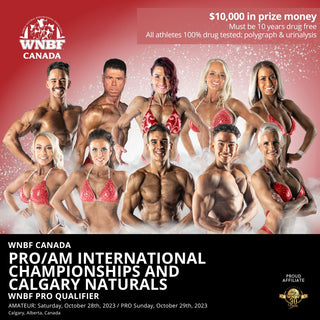 Upcoming Shows
Pro/Am International Championships & Calgary Naturals - October 28 & 28, 2023